Memorial Day weekend is the official start of summer and I plan on having a grand time. I'm doing what I love to do each summer - working the summer day camps. I have a seasonal position as the Supervisor of Summer Programs with the Missouri Department of Natural Resources the State Parks Urban Population Outreach Program. Basically, I get paid to take church and community center groups from the city to daily field trips to nearby State Parks. I get paid to play outside!

I also have some very promising longer term opportunities in the hopper, but nothing I can announce just yet. Stay tuned. I'll be making a big announcement by the end of the summer. In the meantime I can share this....

I was named the
Young Professional of the Year
by the Urban League Of Metropolitan St Louis Young Professionals. It is a great honor bestowed upon me and two other local young professionals. I will receive my award at the 2011 Urban Renaissance Gala on Saturday, June 4, 2011. I would love to see your faces there, if possible. Tickets are $50 and includes a cocktail hour, dinner, awards presentation, and after-party at the Renaissance Hotel Airport location in St. Louis, Missouri.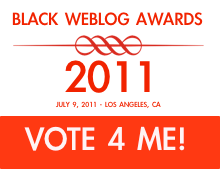 The other good news is that this blog was named as a finalist for the
2011
Black Weblog Award for Best Science and Technology
category. I am humbly asking your support to vote for my blog in this category. I also ask you to vote in the other categories, too. It's an awesome line-up of finalists in 39 categories, finalist list
here
. I'm throwing support behind some of by bloggy friends in the following categories
Best Business Blog
BDPA Foundation
Best Fashion or Beauty Blog
Afrobella
Best Humor Blog
Awesomely Luvvie
Best Podcast Series
Blacking It Up
with Elon James White, Bassey World and more.
Best Political or News Blog
The Black Snob
Best Science or Technology Blog
Urban Science Adventures! ©
Best Sports Blog
Black Sports Online
Best Travel Blog
Jay Travels
Best Lifestyle Blog
The Cubicle Chick
and
Ashy 2 Classy
(both of St. Louis)
Best Green/Nature/Outdoor Blog
Outdoor Afro
This blog was nominated in this category, too.
Best Book/ Author/ Literature Blog
Notorious Spinks
(of Memphis) and
Reads for Pleasure
(of St. Louis)
If you haven't taken to reading blogs, this is a great place to start. if you're a blogger, then I recommend working to get your blog on this list for next year. It's a perfect way to expand your audience (and brand). The link to vote is
here
.
Voting ends June 17, 2011
, and only one chance to vote per email address, so you can't save and comeback to vote for others later. Winners will be announced LIVE in Los Angeles at the very first Black Weblog Awards Ceremony at the
Blogging While Brown Conference
. I will be attending, with fingers-crossed, hoping to get my trophy. (And if anyone would like to
contribute
to my travel fund, then I certainly appreciate it.)
If you're flirting with the idea of attending either Blogging While Brown or the Black Weblog Awards, then I highly recommend that you do it. It is a great networking and learning opportunity. In the meantime, have a great and safe summer; and thank you again for all of your support, encouragement, and prayers.
DNLee
demystifying nature, letting everyone experience